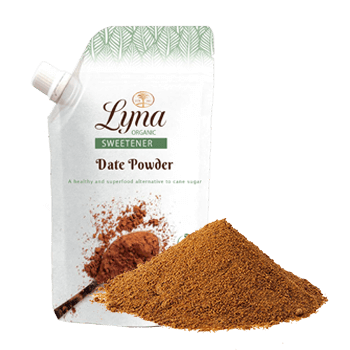 To yield the powder, the dates are dehydrated and finely ground. It is a natural and nutritious sweetener and a perfect substitute for refined sugar. Date powder is used in confectionery, bakery products, and cereal products.
Date powder comes from dried and crushed dates, finely ground to make flour. For a sweet and natural touch, you can add date powder to your blends, pastries, mixed drinks such as smoothies, fruit juices, over yogurt, oatmeal and more. In many countries, date powder is used to sweeten desserts and beverages.
Date powder can be utilized for fermentation (citric acid, vinegar, yeast, alcohol), refreshing drinks with flavored dates, juice, confectionery and pastry.
Date powder is excellent for your health because it is loaded with fructose, dextrose, sucrose, and maltose.. Not to mention that Carbohydrates are a genuine sources of energy for the body while they help fight against high blood pressure and contain no fat.
Relative to the food industry, date powder is a very healthy ingredient for confectionery ; chocolate, protein bars, baked goods, alcoholic beverages, baby foods, dairy products, and ice cream. Date powder is conserved to make it an exceptional sweetener, it is also rich in potassium, magnesium, copper and a great source of iron, calcium, phosphorus, niacin, and pyridoxine.
Moreover, date powder contains powerful antioxidant effects and a lot of beta-carotene, lutein, and zeaxanthin, which act as protection for the eyes. Date powder has the highest antioxidant content compared to honey and maple syrup.