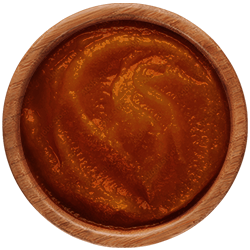 Date filling is made from 100% selected high quality fresh dates with no additives or preservatives added. It is rigorously processed to meet visual and organoleptic aspects, such as greatest quantity of fresh fruit or recognizable pieces of fruit, very attractive shine, right consistency and of course a delicious fruit taste.
Our date filling is suitable for pastry preparations (to garnish and decorate cakes), for ice creams (to be mixed with creams or as a topping), and for catering services, restaurants and hotels.
Thanks to its high nutrient content (rich in antioxidants, fibers and minerals), it is an excellent alternative for toddlers' breakfast.Date filling will help improve the texture, enhance both taste and appearance of your baked creations. It will help you bring more flavor and smoothness into your preparations.
We do own a specific processing technology that allows us guarantee a good fruit integrity. Thus, we can provide fresh dates for your preparations. This exclusive method makes it possible for date filling to be added before or after baking, as it stays stable in the oven. Moreover, date filling can be simply used as it is. In any case, we can promise you our date filling will make your preparations look good and taste fresh.
Our date filling is intended to fill a great range of foods; like cakes, pies, yoghurts, ice creams, cookies and desserts, muffins and cupcakes, donuts and even chocolates. It is suitable for both domestic and professional uses. We offer date filling in conventional and organic quality, in bulk or in consumer packaging.